FOSTER FUELS DONATES $2,500 TO AMERICAN LEGION POST 16 TO KICK OFF CAMPAIGN TO PURCHASE TRANSPORT VAN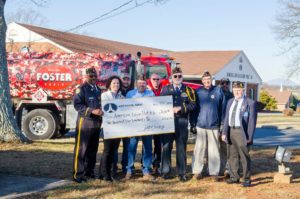 LYNCHBURG, Va. (WFXR) – Foster Fuels has made a donation of $2,500 Thursday morning to the American Legion Post 16 in their effort to raise funds to purchase a transport van with a wheelchair lift.
The donation begins the fundraising effort for the much-needed van.
With the American Legion receiving between four and seven requests for military burials each week with travel up to 150 miles round trip, the need for a reliable transport van is greater than ever.